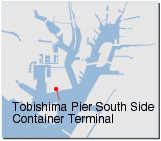 The first berth of Tobishima Pier South Side Container Terminal was put into operation in December 2005. Starting in December 2008 it has been used as a continuous berth together with Berth No. 2.
This terminal was developed with collective efforts by both the public and private sectors, as a designated international container terminal playing a key role in the Super Core Port Project, in which the Port of Nagoya was included in July 2004.
The 16-meeter deep berth is equipped with six super post-panamax gantry cranes capable of handling 22 rows of boxes on deck; thus, it can accommodate larger containerships to be deployed in the near future.
Automated cargo-handling systems such as remote control/automatic rubber tired transfer crane (RTG) and Automated Guided Vehicles (AGV) will be introduced in terminal operations, and high quality service at low cost will be provided following the construction of an IT/Automated Terminal , and to expand the container volume.
These 2 berths have an earthquake resistant design to ensure international container distribution functions in the event of disasters.

TS1
TS2
350m+(adjacent part 50m)
400m
16m
127,570m2
233,979m2
7,920 TEU(4-high stack)
9,768 TEU(4-high stack)
Customs・Plant Quarantine,Dangerous Cargo,Reefer Container
240
6 Lanes Inward, 6 Lanes Outward
1(50 t)
3(quake-absorbing)
3(quake-absorbing)
45.0 t
45.0 t
65.0 t
65.0 t
59.0m(6 tires in 22 rows)
59.0m(6 tires in 22 rows)
30.5 m
24
33
Tobishima Container Barth Co., Ltd.(TCB)
(Investing Companies) Kwasaki Kisen Kaisha, Ltd. / Mitsui O.S.K. Lines, Ltd. / Nippon Yusen Kaisha /
Asahi Unyu Kaisha, Ltd. / Isewan Terminal Service Co., Ltd. / Kamigumi Co., Ltd. / Tokai Kyowa Co., Ltd. /
Fujitrans Corporation / Meiko Trans Co., Ltd. / Tobishima Logistics Service, Inc.
Service Routes