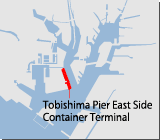 Upgrades to accommodate larger container ships
 Tobishima Pier South and NCB Container Terminal
The three container terminals on the east side of Tobishima Pier (Tobishima Pier North, NCB and Tobishima Pier South) handle cargo on mainly North American and Southeast Asian routes. Quays with water depths of 10–15 m are used efficiently according to the type of ships.
To accommodate larger container ships, the outreach of the gantry cranes at the Tobishima Pier South Container Terminal has been increased from 17 rows to 20 rows. At the NCB Container Terminal, quay reconstruction work has been underway since 2017 to upgrade Berths R1 and R2 as quake-resistant berths, with water depth increased from 12m to 15m. In the first phase,
the new Berth R1, equipped with gantry cranes that have an outreach of 22 rows, was completed and went into service in October 2022. The reconstruction work at Berth R2 is still underway and we wil continue strengthening container logistics functions.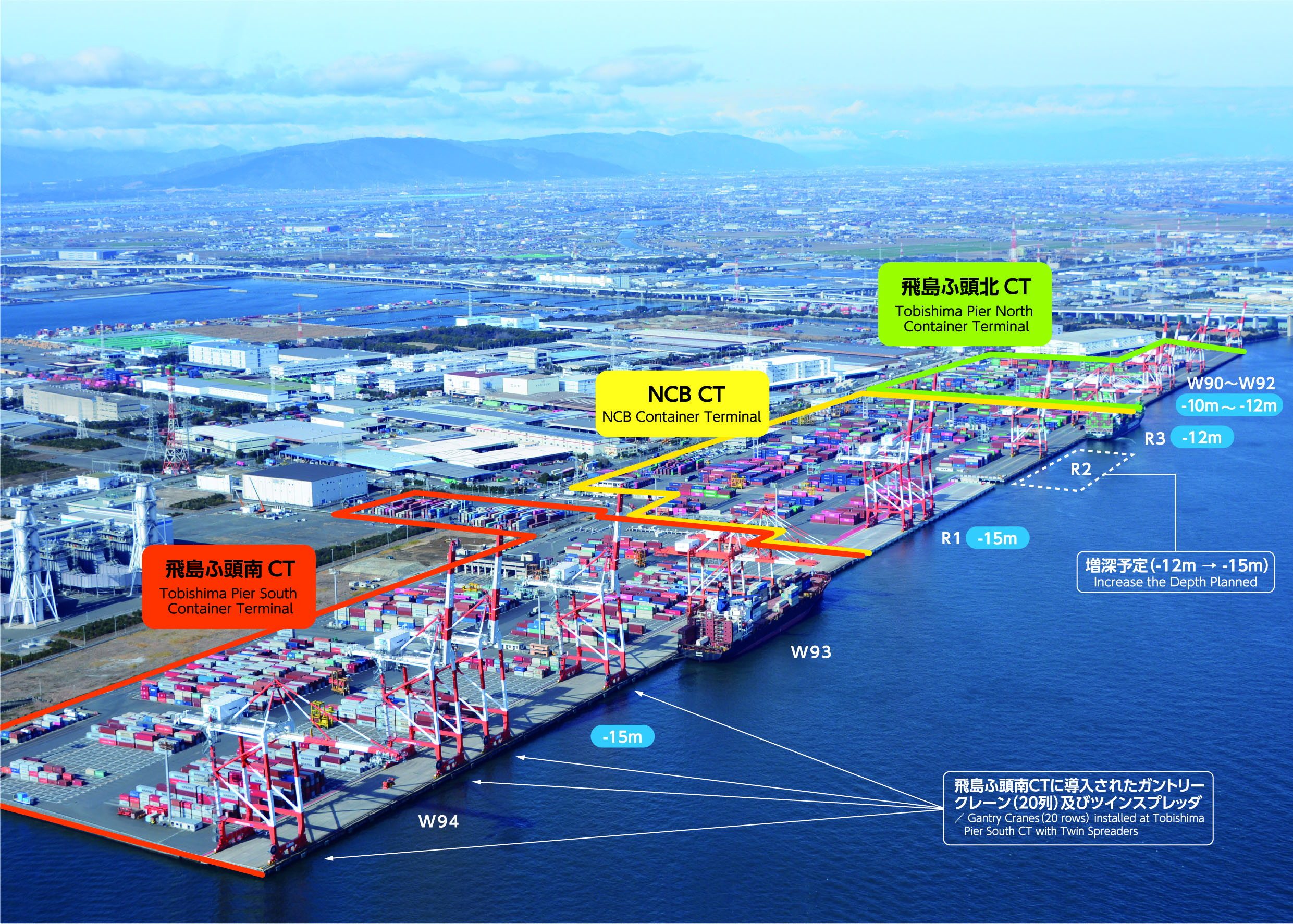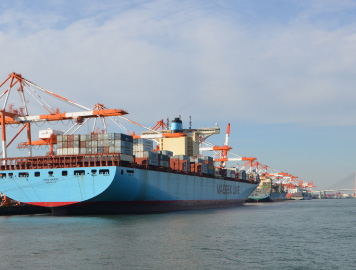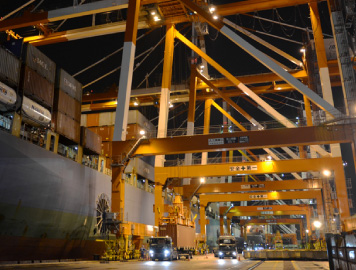 Tobishima Pier North
(W90/W91/W92)
NCB
(R1/R2/R3)
Tobishima Pier South
(W93/W94)
620m
900m
700m
10 ~ 12m
12m
15m
171,105m2
288,379m2
227,772m2
2,862TEU
5,125TEU
4,376TEU
Customs, Plant Quarantine, Dangerous Cargo, Reffer Container
110
189
135
2 Lanes Inward
4 Lanes Outward
10 Lanes Inward
5 Lanes Outward
4 Lanes Inward
6 Lanes Outward
3
4
6
30.5t x3
40.6t x2, 30.5t x2
(single)40.6t ,(twin)61.0t)
36m (3 tiers 13 rows)
37m x2 (5 tiers 13 rows)
48m x2 (5 tiers 17 rows)
44m x2 (4 tiers 16 rows)
48.5m x2 (6 tiers 17 rows)
56.0m x 4(8 tiers 20 rows)
17m
17m , 28.3m
30.5m
---
R1, R2: Kawasaki Kisen Kaisha, Ltd. / Mitsui O.S.K. Lines, Ltd. / Nippon Yusen Kaisha
R3: Nagoya United Container Terminal Co.,Ltd. (NUCT)
---
North America,Indochina,
Singapore, Indonesia,China
North America,Philippines,
Indochina,Bangkok, Singapore, Korea, Nahodka
Indonesia,
Singapore,China