The Port of Nagoya, located near the heart of Japan, is directly linked to major land transportation arteries including the Tomei and Meishin Expressways. This network efficiently covers not only the Chubu Region but also economic blocs to the east and west, while ferry routes connect to Tohoku and Hokkaido.
Taking advantage of these features, the Port of Nagoya supports industry and the lives of people as the ocean gateway to the Chubu region with its many world-class manufacturing companies in the automobile, machine tool, and aerospace industries.
Located just 7 km south of the port is Chubu International Airport, an air gateway that operates in coordination with the sea port.
This combination of sea, land, and air transport modes provides the very best logistics thanks to the Port of Nagoya's location in the center of Japan.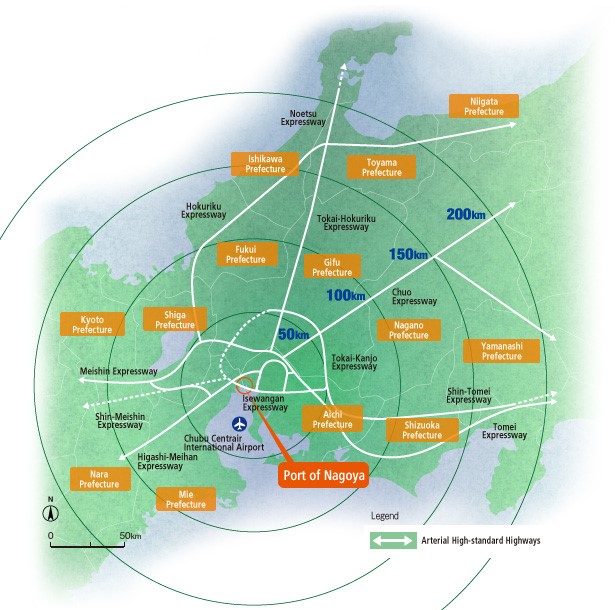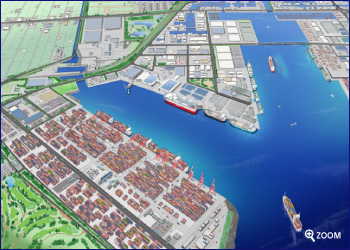 Nabeta Pier Container Terminal
In order to meet increasing demand for international containerized cargo and the advancement of logistics functions, in addition to T1 and T2, construction of a third 12-meter (earthquake-resistant) container berth was started in 2009, with access becoming available in April, 2012.
Development of two additional berths (depth 12 m, length 250 x 2) is planned for the future. This will create a distribution center with five consecutive berths.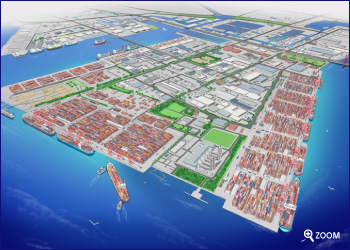 Tobishima Pier South Side Container Terminal
Aiming to further strengthen international competitiveness and cope with the trends for increasing international container cargo and larger containerships, a first deep-water high-standard container berth (quake-resistant) of 16 meters was opened in December 2005 followed by an opening of the second berth in December 2008. Currently, a third 16-meter berth is being planned.
In the future, the 3 berths with total quay length of 1,200 meters will function as a continuous berth to achieve efficient terminal operation.
Tobishima Pier East Side Container Terminal
To accommodate increasingly larger ships, plans are underway for redevelopment of two berths (currently depth 12 m, length 300 m, 350 m). The water depth will be increased to 15 m, and both berths will be made 350 m. They will also undergo seismic reinforcement work to better withstand major earthquakes. The first part is scheduled to be put into service in 2022.
Sequential introduction of larger gantry cranes is also planned.